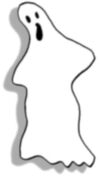 Dans les 1900,
Jean Picot
êcrivit chutte pièche rîthibl'ye tch'est eune histouaithe dé r'vénant pouor Noué. N'en v'chîn lé c'menchement:
Around 1900, Jean Picot wrote this comic piece, which is a Christmas ghost story. Here's the beginning of it:
Lé Cordoungni et lé r'vénant
Y'l'est vrai qu'ache't'eu les temps ont bein changi,
Les gens sé moquent d'ervénant ou dé chorchi,
Y disent qué ché n'est qué des contes des viers d'aut'fais, -
Qué la scienche les a cachis - pâslent dé l'âge du progrès;
Du "progrès"! ah, voire d'jià, y y'ien a - ch'est si bé à vais
Dé nos jours d'ache't'eu les femmes et les hardelles
Galvauder les rues sus lus byciquelles
Habillyies coumme dès hoummes et jutchies en braies!
Eh bein, si chorchiers ou r'vénants
Ont don yieu lus temps
Y faût occuo tchiq' miracle pour emblyûtrer les gens,
Et y craient à aut'chose... lé monde n'a rein apprins,
Y lus faût du nouvé, et y dèspaûtent lus ch'lins
Pour faire dire lus chance par unn' femme endormie...
Ah, y'ls ont fouai en chounna, et escoutent ses d'vis
Quand ou' dit si faût qué fille reste fille, ou bein qu'ou s'marie,
Quand ou promet du biau temps pour la s'maine tchi veint,
Quand ou d'vinne lé numéro dé lus patraque,
Et ou lus dira étout - car y n'y'y'ien est dé rein -
Chin qu'est dans la pouchette dé lus casaque!...
Enfin y n'faût pon trop "disputer les goûts",
Car nou sait bein qué ché n'est pas à tous
Qué les r'vénants sé môtrent - mais not' cordoungni
N'était pas, pardingue, unn' houmme pour menti,
Et vraîment la bordèe qu'y nos conti
Pour san r'vénant, jé n'eûmes pon dé peine à craire
S'enn' histouaire!

Ch'était dans unn' petite ruette
Dans un pouôre vaisinai,
Qué lé racc'modeux d'chavette
Oc sa femme démeurait.
Lus vaisins étaient touôs dès ouvriyiers
Tchi travaillyaient dû pour gâgni lus pain,
Et les habits tchi mettaient étaient tréjoûs viers
Dé traîsième ou dé quatrième main.
Dans ditêts parages not' vier Nicholas
(Ch'était la san nom) n'avait pon fort dé chance
Dé faire, ou pouvèz craîre, dé fin travâs -
Car y n'avait jamais
A erbecq'ter ou ergrèe
Des bottes en paytinne, ou des slippeurs dé danse!
Tout coumme, faut lé dire en pâssant,
Lé bouann'houmme était tréjous complyiasant,
Car si ses vaisins n'étaient pomn des mûs caûchis,
Si lus bottes n'étaient pon dé parre, y'n's'en gênait pas mis;
Nicholas faisait dé san mûs pour sa pratique,
Maîme si unn' botte était à lachèts, ou l'autre à l'aîestique!

Coumme touôs lès autres disciples dé Saint-Crèspin,
Lé bouan'houmme fêtait les Lundis,
Quand maîme qué lé travâs fusse pressant ou pas,
N'ou vyiait, chu jour là, lé vier mâtin
S'en aller à l'aûberge pour en r'deshaller gris.
Mais sa bouann'femme pour l'y était sûs l'guèt,
Et quand y rentrait - tchiq'fais à minnièt -
Lé manche du g'nêt
Etait tréjoûs prêt
Et oull' en baillyiait unn' ronde à Nicholas,
Car s'y'l'vait lé coude, ou l'vait tout lé bras!
Y'l'avait don biaû heurler et braire,
Sé muchi souôs lé sofa ou souôs la table,
Ou lé r'attraînait bein vite dans lé mitan dé l'aire,
Et lattait tout lé temps sûs lé vier minsérable!...
Et pis quand oull' avait presqu'âchouaîmi
La vielle s'en allait trantchill'ment s'couôchi...

Y y'ià des gens tchi sont d'opinion
Qué n'ou peut tréjoûs amm'ner à raison
Tout peûle - qui sait voleux ou fripon,
Voire maîme unn' ivrogne, par des coups d'bâton, -
Qu'y l'y saient dounnès par sa femme ou par la police,
Et qué ch'est là lé r'miède pour tout vilain vice -
Mais hélas! dans lé câs, du vier Nicholas
Chutt' mode là né l'y suffisait pas!
Maûgrè touôs les coups
Y bévait tréjoûs,
Y fallait pus fort pour converti
Not' cordoungni,
Car sa couènne erduerchissait ov' lé temps;-
Mais à la fin, et d'unn' drôle dé faishon
Y'l'attrappit unn' telle rude leçon
Qu'y finit par tchitter tout-à-fait la bouaisson
Et ché fut la bordèe qu'y vit... un r'vénant!...
(à siéthe)