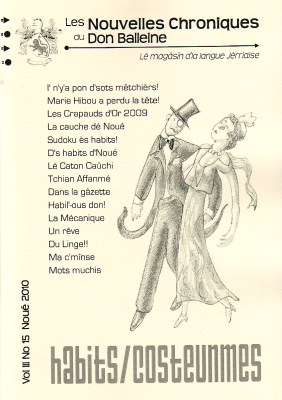 Habil'-ous! Attînt'-ous! Lé neunmétho d'Noué des
Nouvelles Chroniques du Don Balleine
est prêt à env'yer ès souscripteurs (
souscrivez ichîn
, s'ou voulez r'chéver vos Nouvelles Chroniques rédguliéthement). Lé thème est les
habits et les costeunmes
- et y'a même eune cauche dé Noué pouor les cheins tch'ont 'té bouons (tout coumme ou trouv'thez un
Caouain
là-d'dans...). Tony Scott Warren nos pâle dé sa c'mînse;
George d'La Forge
fut ravi par les faichons d's années 1960s;
Elie
distchutit du lînge en 1909; lé Tchian Affanmé s'en fut à Saint Saûveux pouor lé Tennerfest;
Marie Hibou
s'engîbâtrit coumme eune pilote (pas eune pithote) en 1932; Geraint Jennings raconte lé conte â l'entou d'l'âtre du Caton Caûchi; lé sudoku et les mots muchis sièvent lé thème; lé Sieur René Saint-Clair a contribué d'la Grand' Tèrre; Ralph Nichols pâle des habits d'Noué; et j'avons un nouvieau cantique dé Noué...
Time to put on your party frocks and get reading! The Christmas issue of
Les Nouvelles Chroniques du Don Balleine
is about to shimmy off to subscribers. The theme is
clothing and costumes
, and contributions are a suitable patchwork: Tony Scott Warren loses his shirt;
Elie
gained a bundle of laundry in 1909;
George d'La Forge
was not a dedicated follower of 1960s fashions; Lé Tchian Affanmé followed his nose to the Tennerfest;
Marie Hibou
had a flight of fancy in 1932; Puss in boots gets a makeover from Geraint Jennings; the sudoku and wordsearch are suitably attired; René Saint-Clair provides a mainland Norman viewpoint; Ralph Nichols gets seasonal;
Caouain
provides the stocking-filler; and we have a new Christmas carol...
Lé thème du préchain neunmétho est l'
histouaithe
- date lînmite, lé 14 dé Févri.
The next issue takes
history
as its theme - deadline 14th February.