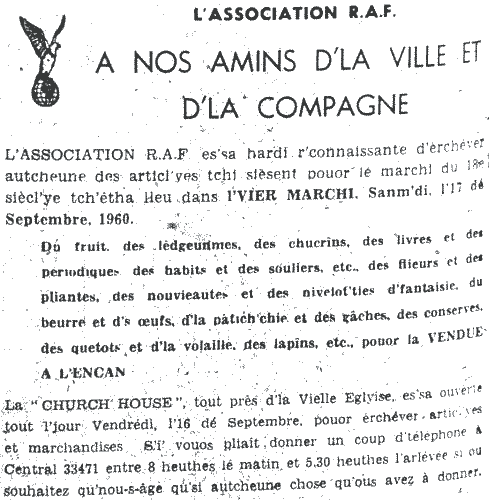 Ph'lip et Merrienne
distchutent lé Vièr Marchi traditionnel en 1953 (et né v'chîn un portrait d'eune annonche de 1960)
The old-time market for Battle of Britain week was a regular feature for many years. Here's an article from 1953 and an image from 1960:
Le Vier Marchi
Le Portînfé est là
Moussieu l'Editeu,
Quand j'entendîmes y'a tchiques jours que l'Crieux Public tait v'nu à Saint-Ou pour procliâmé l'grand jour dans la Place Royale, la Merrienne fut toute întérêssie, et, pour dithe vrai, mé étout.
"Y faut aidgi autant comme je pouvons," ou s'fit, "car, jamais y ne s'sa dit qu'Saint-Ou tait drièthe la porte quand y tait tchestchon d'supporté une bounne cause."
"Nou n'pouorrait jamais en trouvé une muyeuthe," j'm'accordit," car si chais braves garçons n'avaient pas donné lûs vie quand l'maufait Hitler tâchit d'envahit l'Angliéterre, seux et certain que l's'Allemands s'saient ocquo ichin. Y'avait au mains trais ou quatre machine tch'avaient crouaisi la mé et tchi taient en train d'prendre Londres, contre yunne des notres, mais j'eûmes la victouaithe quand-même, et l'pays fut sauvé. Toute honneur à nos braves garçons; nou n'les r'oubliètha jamais."