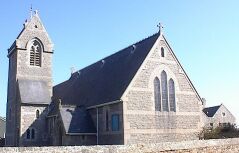 Pouor la Saint George, né v'chîn la preunmié partie d'eune articl'ye dé
George d'La Forge
(nou-s'êcrit "George" ou "Georges" s'lon san chouaix à chein tchi pathaît):
As it's Saint George's Day, here's the first part of an article by George F. Le Feuvre about Saint George's Church in Saint Ouen (and yes, there's no consistency in whether the name is spelled "George" or "Georges" - George d'La Forge probably used "Georges" in the name of the church as the liturgical language was French when he attended in his youth and so he was accustomed to the French form of the name for the church although he uses the s-less form for his Jèrriais nom-d'plieunme):
L'églyise dé St. Georges
J'ai ieu la chance dans chutte vie. Lé onze d'octobre mil huit chent nénante-tch'ieune j'fus bâptîsi dans l'églyise dé St. Georges, pas bein liain d'ichîn, par lé Révérend John Pépîn, Recteu d'St. Ouën, et ch't' arlévée, appréchant d'huiptanteneuv' ans pus tard, j'ai rieu l'pliâisi d'aller vaie l'églyise flieuthie pour la célébrâtion du chent'naithe dé s'n ouvèrtuthe pour "L'Administration des Sacrements et des autres cérémonies et coutumes de L'Église selon l'usage de l'Église d'Angleterre", comme nous l'dit la Litourgie.

Il a pâssé tout pliein dg'ieau par La Corbiéthe dépis chu temps-là, et quâsi touos les cheins tch'étaient à l'Êcole du dînmanche en même temps qu'mé sont au r'pos êtèrnel. J'crai tch'i' n'y'en a qu'iun vivant, lé Sieur Joseph Le Floch, tchi s'en fut à La Côte pour les Robîns en 1907. Il avait nénante ans l'treize dé juîn pâssé, et i' d'meuthe à Montréal au Cannada. Chose assez r'mèrtchabl'ye, j'ai rencontré des Cannadgiens d'souche Jèrriaise à St. Georges ch't' arlévée tch'i' l'connaîssent, lé Sieur Le Floch, et si janmais y'a ieu preuve qué chein qu'nou-s-apprend à l'Êcole du Dînmanche, et qu'l'habitude d'aller au tchulte engendre dans les p'tits jours d'un îndividu a eune bouanne înfluence pour lé reste d'eune vie, lé Sieur Le Floch en est ieune. A nénante ans i' va acouo à l'églyise touos les Dînmanches. et il a eune bouanne vouaix et chante la s'gonde dans l'tchoeu.

D'être dans l'églyise dé St. Georges aniet mé ramémouaithe un tas d'choses. J'm'èrsouveins des long sèrmons d'Moussieu Pépîn et Moussieu Barascud, Prêtre Suisse-Français. Étant mousses, j'avions d'la peine à rester trantchil'yes et à nouos garder rêvil'yis dans nouos bancs. Nou 'tait là dépis dgiex heuthes jusqu'à la fîn du sèrvice auprès méjeu et i' fallait à toute forche sé condithe comme i' faut duthant les sèrvices, car si les pathents v'naient à ouï qu'nous-avait 'té mêchants dans l'églyise i' vouos donnaient eune ronde. J'tions contents quand ch'tait Moussieu Paul Bichery tchi prêchait. Ses sèrmons n'étaient janmais longs. Un charmant moussieu, lé Révérend Bichery. Il allait partout à pid et quand i' v'nait à St. Georges i' dînait siez la Tante Vîne (Mdme. Ph'lippe Hamon à Portînfer.)

Dans l'Êcole du Dînmanche i' fallait c'menchi par apprendre la Collecte du jour. À m'suthe qué nou montait d'clâsse en clâsse, i' fallait apprendre à dithe lé Caticème, lé Sŷmbole des Apôtres, les Êpitres et Êvangiles et les Dgiex Commandements par tchoeu, et i' fallait aller deux ans dans la septième clâsse et n'aver pon mantchi un Dînmanche ni pèrdu eune mèrque pour gângni la Grand' Bibl'ye. Ch'tait l'couronnement des sept ou huit pâssées dans l'Êcole du Dînmanche.

Ch'tait tout en Français dans chu temps-là. Lé chant 'tait mangnifique, et j'm'èrsouveins acouo d'cèrtains cantiques tch'étaient les favoris. Iun 'tait "Soleil de Justice"; d'aut' étaient "Nous aimons le Saint Lieu" et "Tout mon coeur s'enflamme."