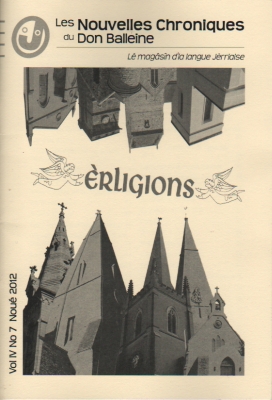 Les Nouvelles Chroniques du Don Balleine
dé Noué 2012 ont pouor thème les
r'ligions
, et sus la couvèrtuthe nou vait un affit en portraits d'églyises et chapelles dé Jèrri, et tout l'travèrs du magâsîn y'a eune d'vinnâle en portraits d'mios et d'buts d'églyises et chapelles qu'nou pouôrrait r'connaître (mais n'séyiz pon au m'sespé: les rêponses sont à la p35!)
J'avons des vielles pièches dé
Jean Picot
, dé
Ph'lippe lé Sueux Mouothant
, dé
George d'La Forge
, dé
Messire Èrthu d'la Mathe
. Épis y'a des nouvelles pièches: un accompte d'un pèl'rinnage en Israël en 2012, eune explicâtion géologique d'l'Exode, l'èrnouvellement d'l'Églyise d'la Ville en 2012, des vîsites dans la Grand' Tèrre. Y'a les d'vinnâles: des mots muchis du Sèrmon sus la Montangne, un sudoku s'lon l's Êcrituthes, lé quiz des mots. J'avons des chansons et des cantiques dé Noué, des rapports des fêtes, des publyicâtions et tout chenna. Lé Tchian Affanmé a mangi, coumme dé raison, et y'a eune èrchette.
The latest issue of the quarterly Jèrriais magazine contains items of the theme of religions. The cover picture is a montage of churches and chapels in Jersey.
How many can you recognise? And the game of name-that-church continues through the inside pages (answers on p35).

Something old: texts from classic authors; something new: a 2012 Jersey pilgrimage to Israel, visits to mainland Normandy, Exodus from a geological point of view, restoration of the Town Church completed 2012. wordsearch, sudoku and vocab quiz. Songs and carols. Reports on events and new publications. there's the usual restaurant review and a recipe.
Lé préchain neunmétho étha pouor thème lé
crînme
: la date lînmite pouor les textes, portraits et mentions s'sa la Saint Valentîn (lé
14 dé Févri 2013
)
The Spring issue will be on the theme of crime: deadline for submissions of texts, pictures and diary dates will be 14 February 2013